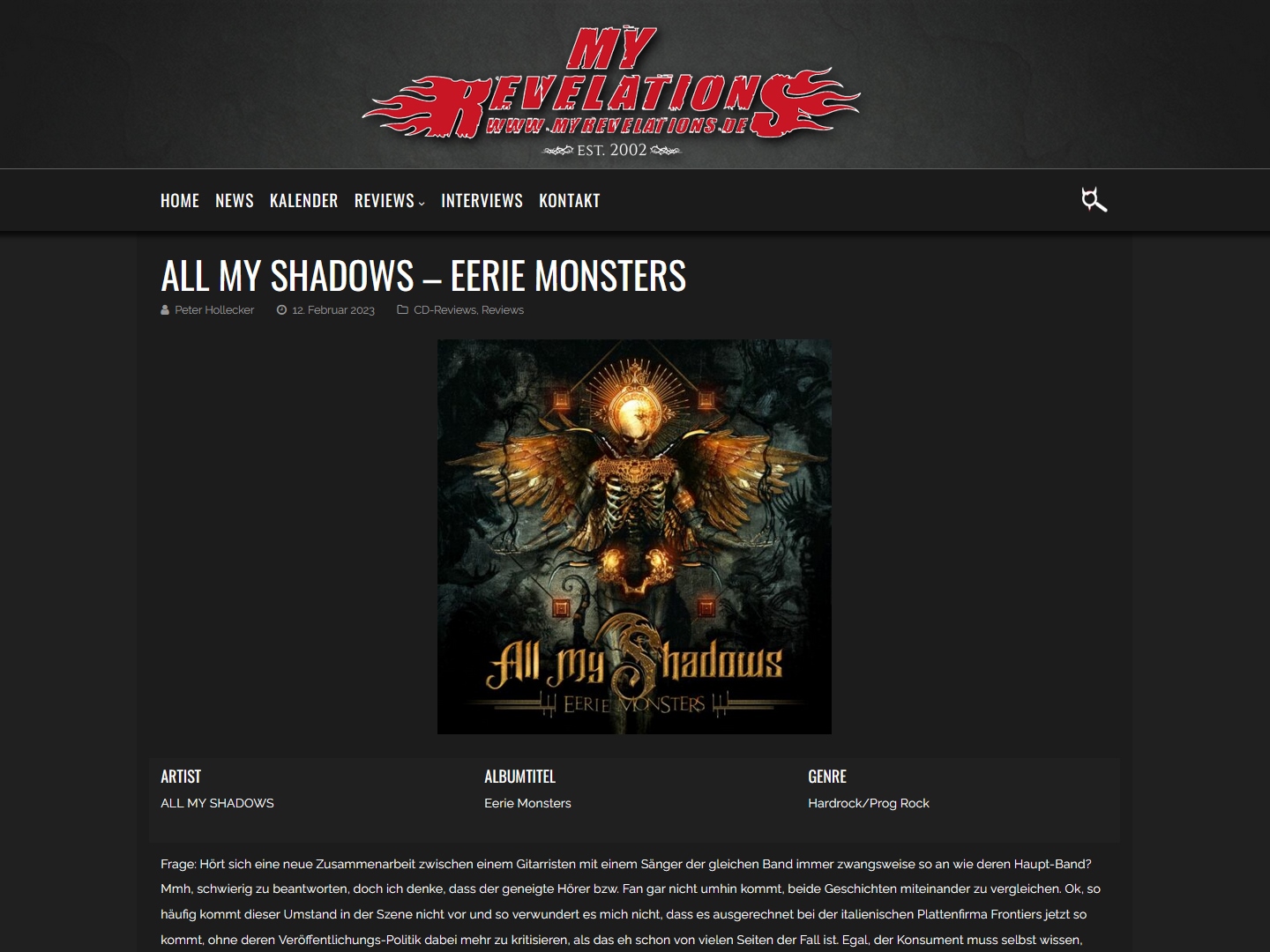 Review Eerie Monsters
Source: https://www.myrevelations.de/2023/02/12/all-my-shadows-eerie-monsters/
Author: Peter Hollecker
English translation by: Jenifer Doerrich (Vanden Plas Fanclub)
Question: Does a new collaboration between a guitarist and a singer from the same band always sound like their main band?
Well, this is difficult to answer, but I think fans have no choice but to compare both stories. It's not a common thing in the scene, so it doesn't surprise me that it's happening now with the Italian record label Frontiers. However, I don't want to criticize their release policy more than others already have. Anyway, consumers need to decide for themselves what and how they want to purchase. We live in a free country after all, thank goodness!
Let's talk about the quintet ALL MY SHADOWS, who formed two years ago, and their debut album "Eerie Monsters." The band's guitarist STEPHAN LILL and shouter ANDY KUNTZ are both full-time members of VANDEN PLAS, the flagship prog-metal group from Rhineland-Palatinate. But that's not the only connection between the two bands. VANDEN PLAS' drummer and Stephan's brother, ANDREAS LILL, is also on board, along with their long-time mixer, keyboardist MARKUS TESKE. And last but not least, to complete the name-dropping, there's bassist FRANKY R., who's worked with Michael Schenker and Paul Shortino.
Alright, so far so good. What matters is the music. And this takes me back to the initial question. The answer is both yes and no! Die-hard VANDEN PLAS fans will get their money's worth with ALL MY SHADOWS because this amazing voice and the intricate arrangements leave no doubt from the first note about who is playing the music here.
The only difference is that the songs get to the point faster, lean more towards hard rock than metal, but still exhibit enough progressive elements to maintain that thrilling tension and "certain something" that characterizes the music of VANDEN PLAS. However, there are more "earworm-worthy" tunes, like the fantastic "The Phantoms Of The Dawn", which totally reminds me of good old Queensryche days.
The opulent "Syrens" is also absolutely captivating. Throughout the whole album, there's an incredible force hovering over the songs that makes me almost addicted to hitting the repeat button. They didn't hold back on the production, that's for sure!
There is only one ballad on "Eerie Monsters", the song "Farewell," but it's really something special. The song would fit well in any musical, and many of the other songs could best be described as "theatrical" with a generous dose of heaviness. They are often reminiscent of QUEEN.
This creates a connection to the theater and musical productions in which VANDEN PLAS have been involved, such as "Last Paradise Lost" or "Anima One".
Although the opening of the final track contains a "pig organ" that reminds you of classic 70s hard rock, the final song quickly takes a more modern, progressive direction. It's a very exciting and entertaining record that I just can't seem to get enough of at the moment.
Conclusion
There are differences compared to VANDEN PLAS, but for me they are rather negligible. A great album remains a great album, just like the musicians who recorded it!
Score: 14 of 15